The INSCO 9017 series is a triple "engine gauge" indicator which displays oil temperature, oil pressure and fuel pressure. All three gauges are combined in a compact 3" case. Each scale features a full 120 degrees for easy readability and each pointer is driven by a shock-protected, precision meter-movement. The 9017 series is built right for maximum dependability in any application.
SPECIFICATIONS:
The INSCO 9017 series triple indicator is qualified to TSO-C43, type II and TSO-C47, type II. Power requirements are 28 volt DC per MIL-STD-704. The standard case is "O" ring sealed but hermetic sealing is available if required.
The oil temperature function operates from an MS28034 or equivalent temperature bulb. The pressure functions operate from either resistance type transducers or high-impedance strain gauge transducers. When strain gauge transducers are specified, the indicator supplies a closely regulated excitation voltage for the transducers.
As with all INSCO™ instruments, the 9017 triple indicator indicator was designed and engineered with rigorous adherence to the highest quality standards.
At INSCO™, our teams demand the best and that's exactly what we deliver!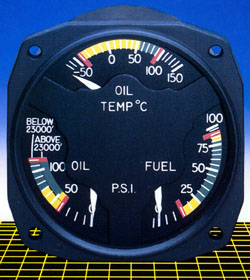 OPTIONS:
MS33638 or MS33639 case (3")
MS3113-12-10P connector standard, any connector is available
Coverglass coating: MIL-C-675 or MIL-C-14806
Lighting:
| | |
| --- | --- |
| | Integral (wedge, spray, or transilluminated) |
| | Add-on bezel lighting |
| | 5 or 28 volt |
| | White, blue/white (MIL-L-27160) or red (MIL-L-25467) |
| | NVIS Compatible Lighting also available. |
Range markings are screened on the dial to your specifications.